Patriots Gun Show Appearance Schedule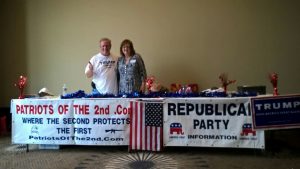 Next Patriots Gun Show: SCHEDULE UNKNOWN DUE TO CORONA VIRUS POSTPONEMENTS – check back.
Saturday 9am – 5pm   Sunday 10am-4pm
 Columbia County Exhibition Center
212 Partnership Dr, Grovetown, GA 30813
Stop by our booth, we will have the RNC petition for the following….
1)  Petition from President Trump to Congress to BUILD THE WALL
2)  Petition; S. 2486 Safe Student Act ( Arm  Qualified, School Teachers )
4)  3 Question Survey from President Trump listing your top priorities for the country
5)   SHIRTS,  HATS,  BUMPER STICKERS,   BUTTONS,  TRUMP FLAGS
*** Register To Vote at our booth….all 50 states and territories of America. 
*** Sign up for "Voter Election Reminders " 
*** Need Absentee Ballot ?…we can help.
*** Not sure if you are register to vote?….we can help
*** We will also have life like size cardboard President Trump at the show – come take you FREE selfie with Donald holding one of our pro-Trump signs or with your Gun.  Make a memory !  NO CHARGE: Scroll down see below 
Gun, Knife,  & Ammo 
!!!!!!!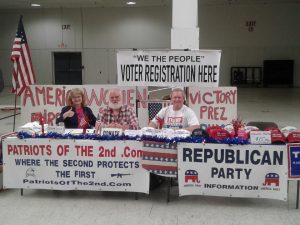 Look for our "Patriots Of  The 2nd .Com Booth"…Along with The "Republican Party Information Booth."   You can register to vote at our booth.
At the Gun shows we will have a life size card board Donald Trump.
Come take your selfie standing next to the President….holding your favorite gun. No charge for pictures…will we will take picture for you…your phone